Get Insider Access To Great Homes At Discount Prices In Your Area Today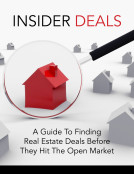 Join the Homebuyers Hot List!
Get instant access to the best homes in YOUR area as they become available - fixer uppers to move in ready at discount prices. We specialize in helping First time buyers to Real Estate Investors in Southern Colorado. Plus you get our FREE report with 7 ways to get a great deal on your next home.
We Do the work for You!
We know how stressful looking for your next home can be. Let us do the heavy lifting for you! We have access to a large inventory of homes in your area that are ready to be sold at below market value prices. We are based in Southern Colorado but have access to other areas. Are you a Real Estate investor? Do you have a specific budget to buy your home?By joining our Homebuyers Hot List you'll get immediate access to our entire inventory of homes AND our FREE report, "Insider Deals: A Guide to Finding Real Estate Deals Before They Hit the Open Market," which includes the 22 best sources for finding your next home.